GO! 2025 - European Capital of Culture 2025

A city from Slovenia and another from Germany (Chemnitz) will be chosen as the 2025 European Capital of Culture. 
The city of Nova Gorica presented its cross-border cooperation with neighbouring Gorizia as one of its advantages to both promote and strengthen the resources of a unique cross-border area.
Once the title has been conferred, the city is expected to prepare a year-round original cultural programme of outstanding quality.
The first bid book, which contains the cultural programme for that year, was submitted by 31 December 2019. The applications was examined by a committee of independent experts: the candidacy of Nova Gorica anche Gorica, Ljubljana, Piran and Ptuj were admitted to the final selection.
The second phase bid book was submitted on 24th November 2020.
18th December 2020 Nova Gorica and Gorizia was announced to be European capital of Culture 2025.
The ECOC candidacy project has a dedicated website www.go2025.eu  
and can be followed on Facebook @NovaGorica2025   Instagram @go_2025    & Youtube GO!2025
The rulebook for the use of the integrated brand identity GO! 2025
 Take a look to the final & winning Bid Book:
Sfoglia online

WHAT IS IT ALL ABOUT? 
The title of European Capital of Culture is given every year to two cities of two Member States of the European Union. The initiative's aims include: protecting the richness and variety of different cultures in Europe, promoting the shared cultural values and achievements of the European nations and guaranteeing the effects of culture on the long-term development of cities. In addition, the title is also an excellent opportunity for re-launching their local tourism industry and economy through cultural developments.
THE ROLE OF EGTC GO
The EGTC GO European Grouping for Territorial Cooperation will be the tool used throughout the individual phases of this complex process, since it is certainly going to be a greatly appreciated advantage.
EGTC GO can directly carry out shared projects both in Slovenia and in Italy and can invest across the shared territory of the cities without the constraints of national and administrative borders, while coordinating cross-border investments and thus implementing a true joint conurbation.
EGTC GO is therefore going to play a key role for the cities in jointly carrying out the cross-border activities.
A successfully tested method of managing cross-border projects and executing cross-border investments within the CBC Programme 2014-2020 Interreg V-A Italy-Slovenia will be used for this purpose.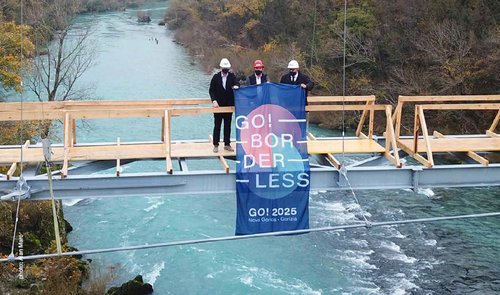 THE CANDIDACY
The GO! 2025 candidature with its slogan GO! BORDERLESS is a tale where past memories and future visions blend to generate a concrete, participated and effective cultural strategy, ultimately contributing to the improvement of the quality of life for the citizens of the whole border area. Nova Gorica and Gorizia strive and dwell together: dived by wars, untied by friendship and intense cooperation, the two cities set for themselves the ambitious goal to become a cross-border European Capital of Culture.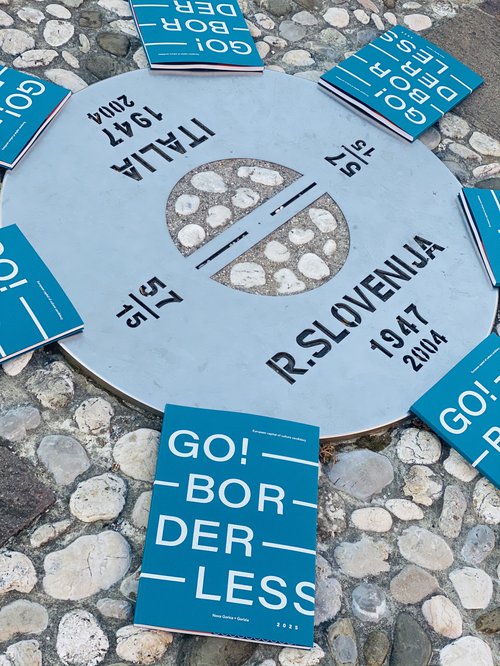 The rulebook for the use of the integrated brand identity GO! 2025
Request for the use of the logo
Related news

12.07.2023

Patti Smith's opening act open to Italian and Slovenian musicians: applications open

EGTC GO is making the stage of the former border crossing Casa Rossa - Rožna dolina available to emerging musicians for this autumn's big event: Patti Smith's concert! The ...

Read all

28.06.2023

European Commission: Preparations for GO!2025 are making significant progress

"The European Capital of Culture 2025 Nova Gorica - Gorizia has so far demonstrated a serious commitment to the project and significant progress," the European Commission announced yesterday.The European Capital ...

Read all

23.06.2023

EUROPEAN MEETING OF CROSS-BORDER CITIES

We are pleased to invite you to the meeting of the cross-border cities of Mitteleuropa, a unique and special gathering of cities all located between two different States. Gorizia and ...

Read all
Related events

05.10.2023

Concert Patti Smith

Piazzale della Casa Rossa,

Patti Smith is a leading figure on the world art scene, thanks to her successes as a performer, songwriter, recording artist and visual artist. Her debut album, 'Horses', released in ...

Read more

02.09.2023

EDITORS concert

Piazzale della Casa Rossa, Gorizia/Gorica

On 2 September, the British rock band Editors is coming to Gorizia and Nova Gorica. The concert in Gorizia will take place on 2 September 2023 at the large car ...

Read more

31.08.2023

Info EDITORS concert

Piazzale della Casa Rossa, Gorizia/Gorica

On 2 September, the British rock band Editors is coming to Gorizia and Nova Gorica. The concert in Gorizia will take place on 2 September 2023 at the large car ...

Read more