The signing of the Agreement clears the way for the development of the bordering area near the Transalpina Square
17.10.2023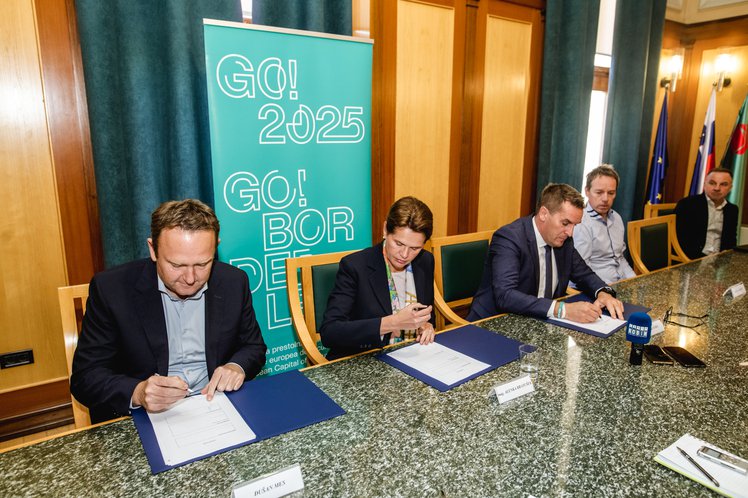 Minister of Infrastructure Alenka Bratušek, General Director of the Slovenian Railways Dušan Mes and Mayor of Nova Gorica Samo Turel shook hands today in Nova Gorica at the signing of the Cooperation Agreement in the European Capital of Culture 2025 project, which is crucial for the development of the necessary infrastructure in the central area of the European Capital of Culture project. The Agreement is the result of six months of complex negotiations and coordination between the Municipality of Nova Gorica, the Ministry of Infrastructure, the Slovenian Railways and their subsidiaries, and the Infrastructure Directorate of the Republic of Slovenia. The project is important for the European Capital of Culture, for the development of the city and the entire region, for the country, and for the Slovenian Railways. It is proof that things can move if actors connect and work together with a common goal.
In anticipation of the European Capital of Culture 2025, the Novogorje Railway Station area will be developed in this way, along with three buildings, the Freight Warehouse, the SVKT building, the Railway Health Center, and an elevated underpass under the railway tracks with a bicycle path. Parallel to these agreed upon facilities, the Transalpina - trg Evrope yard will be renovated and a green belt will be created along the border between the former Salcano crossing, Rafut Park and the villa. Renovation of Villa Rafut will also begin in 2025 with support from the state, from the Ministry of Culture.
The landscaping intervention from the Agreement is part of the larger solutions they are planning for the area located adjacent to the border. This part is connected to the venues of the European Capital of Culture through the development of the green belt along the border, i.e., the area north of the Transalpine Square-Trg Evrope and south through Castagnevizza, with a connection to the Rafut Park, which was renovated this year, and the planned renovation of Villa Rafut, for which the Ministry of Culture has allocated just over 4 million euros. Renovation work on the villa is expected to begin in 2025, once the complex documentation is completed. This part of the site will be sensitively integrated into the redevelopment of the blighted area along the border, with the aim of making it a place to meet, gather, and, most importantly, implement CEC projects.
The renovated freight warehouse will house EPIC - the European Platform for the Interpretation of the Century - a new exhibition space and event venue. The SVTK will be dedicated to the Super 8 project, a center linking cultural content with local gastronomy. The Railway Health Center is set to house an information center and event support facilities in the Transalpina Square - trg Evrope. After 2025, half of the warehouse will be dedicated to the University of Nova Gorica, which wants to build classrooms there. Spaces in Super 8 will be permanently dedicated to the area's restaurant offerings, where residents and visitors can meet and socialize.