Big success for the event GO! 2025 FOR BUSINESS
08.04.2022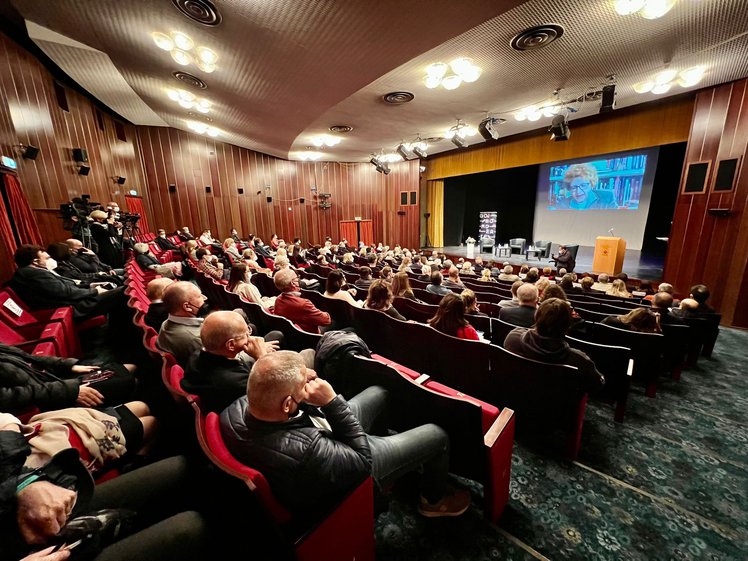 A packed auditorium, with more than 160 participants, testifies what an enormous interest of citizens and entrepreneurs have in the European Capital of Culture.
Being the European Capital of Culture also means catalyzing new investments and producing new jobs. Those who managed the great event in Matera that won the title in 2019 know that very well.
And it is precisely this experience that was discussed last night, at the Kulturni Dom in Gorizia, at the public meeting GO! 2025 FOR BUSINESS: NEW DEVELOPMENT PATHS THROUGH CULTURE - The Matera 2019 ECoC experience for the economic operators of the city and the territory.
The event, organized by the EGTC GO in collaboration with "Go2025!" and the Municipalities of Nova Gorica and Gorizia, saw as protagonists the director of the Matera Foundation, Giovanni Oliva, together with the managers of specific sectors: Rita Orlando, head of pillar and networking projects; Elvira De Giacomo, secretariat and general affairs; Marco Piegari, procurement and contract manager; Raffaella Pontrandolfi, communication and strategy manager.
The evening started with the opening speech of Aleš Waltritsch, followed by the greeting of Tiziana Gibelli, Councilor for Culture of the Friuli Venezia Giulia Region. The mayors of the two Gorizie, Rodolfo Ziberna and Klemen Miklavič, the president of Gect GO, Paolo Petiziol, and the director of the newly established Zavod GO! 2025, Kaja Širok, followed on stage for the institutional greetings. The common denominator of their messages was the importance of working together, without borders.
The guests from Matera then took the floor to share the results obtained in the year of regency of the title of CEC2019. The important impacts on the territory were explored, not only of a social and cultural nature, but also of an economic one, from tourism to innovative and new businesses, from employment to the real estate sector. The numbers that emerged from the analyzes on the impact of the event on Matera, in fact, are truly remarkable and mark increases in tourist flows, most of the times in three figures with a growth in attendance, in the previous five years of 198.3% with a peak, obviously, in 2019, when the city marked 1 million 670 thousand visitors.
The data reflect the figures for the growth of beds, 5-star hotels recorded +284% growth, a similar increase is shown in other accommodation facilities, where the demand for renting rooms and holiday homes completely exploded, growth exceeding 2,000%. Also very interesting is the data showing the percentage of employment, which jumped to +10% thanks to the European Capital of Culture.
The event ended with questions asked by the participants when registering for the event. The topics discussed were the economic impact of the ECOC on the territory, the way companies and entrepreneurs are involved in the city and in the whole territory, sponsors, public-private cooperation, the type of organized events and also lost opportunities in the Matera2019 experience.