Musical treats at Evropa/Transalpina square exactly two years since ECOC 2025 was announced
18.12.2022
Trg Evrope/Piazza Transalpina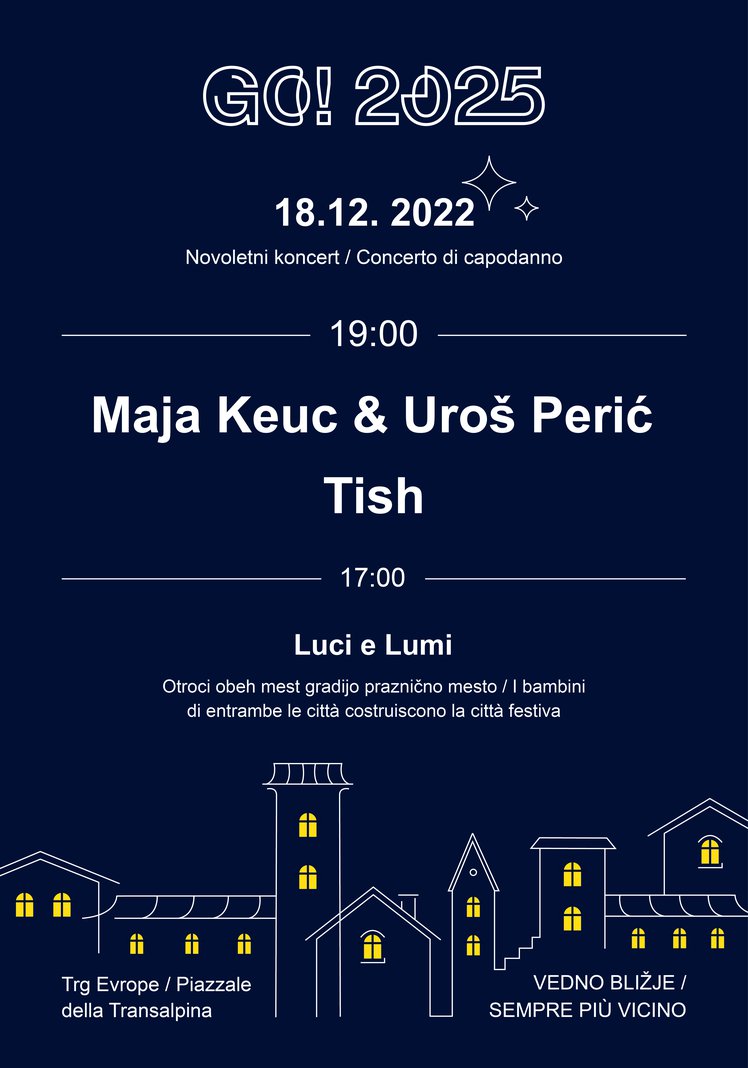 On Sunday, December 18, exactly two years since Nova Gorica was declared the European Capital of Culture 2025, Europe/Transalpina square will once again be filled with joy. The highlight of the festive evening, when we will celebrate limitlessness, will be a concert by the popular musical duo, Maja Keuc and Uroš Perić, and the ambassadors of GO! 2025 Tish.
The celebration will begin at 5 p.m., when children will build a festive neighborhood of handmade houses as part of the "Luci e lumi" project. As many as 1,200 children from schools on both sides of the border will participate. At 6 p.m., representatives of the two municipalities, Nova Gorica and Gorica, will light the lights on the Christmas tree.
The concert by Maja Keuc and Uroš Perić will be a musical treat for all lovers of soul, blues and jazz melodies. This evening, close musical friends will join forces and warm up the audience with an interpretation of some of the greatest hits.
The evening will conclude with a concert by the singer Tish. The singer from Gorica, who became famous by singing in the popular Italian TV show "Amici di Maria De Filippi" and became one of the most popular contestants in the history of the show with her cuteness. Before the performance, Tish confided in us what borderlessness means to her: "In 2004, when Slovenia joined the European Union, we were taken from kindergarten to the border, which was no longer there that day. There were many of us, many balloons, many wishes and hopes. Since then, I imagine Gorica as two sisters: the older Gorica, where I spent my childhood, and the younger Nova Gorica, which is the city of my youth, where I have friends. After so many years, I am grateful to be able to return and perform at the intersection of our neighborhood, in which we celebrate cultural and physical boundlessness, which is important for young generations."
We remind you that on December 18, 2020, the president of the twelve-member council of independent experts for the EPK 2025 selection, Cristina Farinha, announced that Nova Gorica won the prestigious title of European Capital of Culture 2025. In 2025, there will be two European capitals of culture: Nova Gorica in partnership with Italian Gorica and German Chemnitz. In the strong competition of Slovenian cities, in addition to the diverse and high-quality program of the application book, the international jury was convinced by the supporting idea of the cooperation of a unique cross-border area. Joint candidacy under the slogan GO! Borderless, Let's go! Borderless sends a message to Europe about peace and the necessity of crossing borders, not just physical ones.
You are welcome, there is no entrance fee.