First meeting of the Assembly of the EGTC GO in 2023
19.04.2023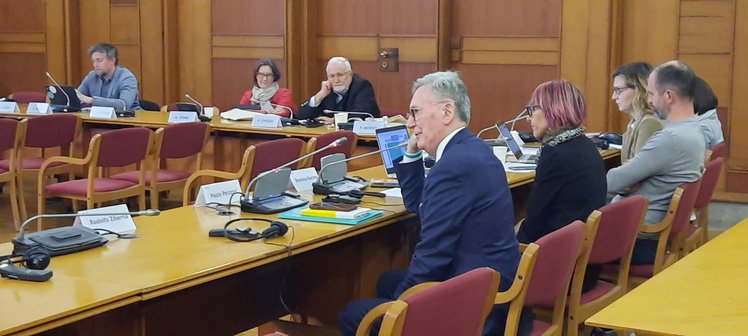 Among the items on the agenda was the appointment of the President.
The first meeting of the year of the EGTC GO Assembly was held on Wednesday 19 April 2023 at 4pm at the EGTC GO premises in Gorizia.
Among the items on the agenda was the appointment of the President for a two-year term, which was reconfirmed to Paolo Petiziol. "This reappointment is an honour," commented Petiziol. "The municipalities believe in us and believe in the work we are doing together, with perseverance and determination, and with a team, the EGTC GO, that is truly professional and competent.
No name yet from the municipalities for the vice president, whose appointment is postponed to the next session.
The December meeting of the Assembly closed with a forecast of activities and staff increase confirmed in the first months of 2023. In fact, the EGTC GO team was enriched by two new units necessary to cope with the numerous activities launched in view of the European Capital of Culture 2025. In fact, the first call for proposals has been published in the framework of the European funds Interreg Italy-Slovenia, which will close on 21 April. Among the novelties, there is also the appointment of the deputy director in Tomaz Konrad, previously responsible for the Interreg projects Salute-Zdravstvo and Isonzo-Soča concluded in December 2022 and now reference for the Small Projects Fund GO! 2025.
Numerous activities have been carried out and are planned for the coming months, all aimed at the European Capital of Culture 2025: from the closure and evaluation of the first call for proposals to the launch of the tender for the GO! 2025 platform and its implementation. "It will be necessary to further increase the structure also with specialised external staff," comments Director Romina Kocina, "and at this rate we will also need additional space so that we can work together with our colleagues from Zavod GO! 2025 and optimise professionalism.