Patti Smith in Gorizia: USEFUL INFORMATION FOR PUBLIC
02.10.2023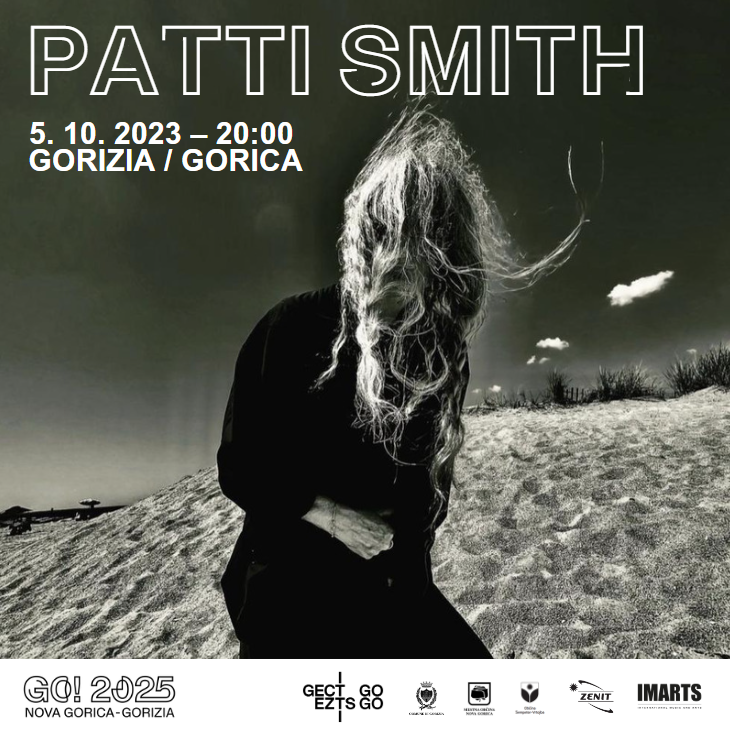 ORDINANCES AND USEFUL INFORMATION FOR THE PUBLIC
On Thursday 5 October, the square in front of the Casa Rossa - a former border crossing between Gorizia and Nova Gorica that will soon be redeveloped - will host the highly anticipated concert of rock music icon Patti Smith. During her musical career spanning more than five decades, she has influenced several generations of bands and artists, and even today she continues to give extraordinary, high-intensity performances.
To warm up the audience, before the arrival of the American rock star, two bands selected from 70 applications received will play: Overlaps, an altpop/rock band from Pordenone (IT) and Imset, a Slovenian rock band from Domžale (SI).
The event - free and open to all - is promoted by GECT GO, in collaboration with the Municipality of Gorizia and Zenit Srl, as part of the preparations for GO! 2025. The gates will open at 5.30 p.m., with the concerts starting at 6 p.m.
Admission is guaranteed until the venue's maximum capacity of 10,000 is reached.
There is no reservation or admission fee. 
Refreshments will be available in the concert area.
It is possible to access the event by means of the free shuttle bus arranged by the Municipality of Gorizia in cooperation with the Azienda Provinciale Trasporti - APT Gorizia from 5.00 p.m. to 11.30 p.m. on the Via Bolivia - Via Blaserna A/R route (with service interruption during the main concert). 
Stops will be made at the car park made available by the CCIAA in front of the Fair Authority in Via della Barca, at the Railway Station (Piazzale Martiri della Libertà), in Corso Italia no. 51/A near the former Province and in Piazzale Casa Rossa (Via Kugy).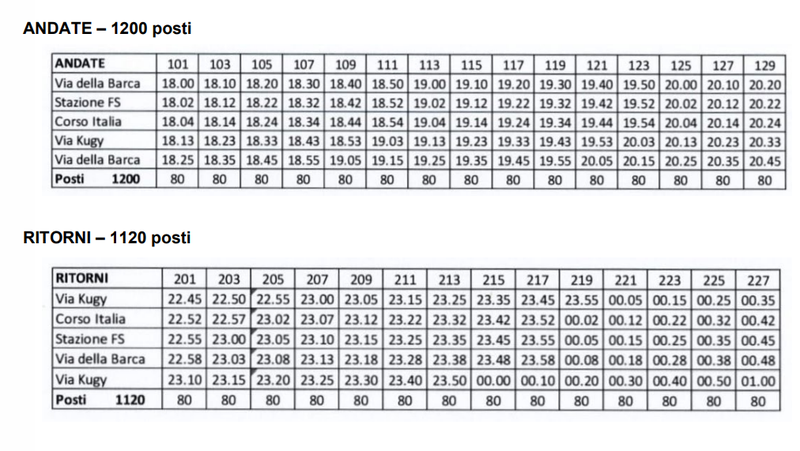 From Nova Gorica, until 7.40 p.m., an extra bus every hour will be added to the ordinary routes of the free bus service to the concert venue. In addition, an additional bus will run on the Nova Gorica - Rožna Dolina border (Red House) route, with a frequency of every half hour from 17:00 to 20:00. After the concert, a bus will run from Rožna Dolina every 20 minutes until 1 a.m.

The shuttle bus timetables are also available on the EGTC GO website www.euro-go.eu.
The nearest car parks are in Toscolano Street (car park of the Julian Isontina University Health Authority behind the former civil hospital), the car park next to the Bombi Gallery (Giustiniani Street), the car park at the General Hospital "Dr. Franca Derganca" Nova Gorica (Šempeter pri Gorici), Supernova Nova Gorica (Vojkova cesta), in Kidričeva ulica street (Nova Gorica), the car park in front of and behind the Nova Gorica Municipality (Trg Edvarda Kardelja) and the car park in Vojkova cesta (Nova Gorica). You can find the map with parking spaces on the EGTC website GO www.euro-go.eu .
The public is invited to travel by free public transport.
An ordinance has been issued by the Local Police both to ensure the success of the event and to guarantee the town's traffic flow. In addition to the Piazzale della Casa Rossa, which is closed to traffic from 29 September to 7 October, there will also be a ban on traffic in Via Kugy from 4 to 6 October, and in Via Cravos and Via Blaserna for the day of 5 October only, from 3 p.m. onwards.
Here is some information on what NOT to bring into the concert area.
Drinks and other prohibited substances: beverages in cans, glass bottles, metal flasks or plastic bottles larger than 0.5 litres (only bottles no larger than 0.5 litres without a cap are allowed); alcoholic beverages; spray cans (mosquito repellent, deodorant, sunscreen, etc.); narcotics.
It is not possible to enter with any animals (any kind or size), nor with bicycles, skateboards, skates and overboards. Suitcases, trolleys, bags and backpacks are only permitted if they have a capacity of less than 10 litres.
With the exception of authorised persons, the following may not be brought in: audio/video recording equipment; professional and semi-professional cameras; video cameras, gopros, ipads and tablets; selfie sticks and tripods; umbrellas and poles; musical instruments, stadium trumpets; pens and lase pointers; drones.