Ministers of Culture encounter in the light of GO! 2025
20.03.2023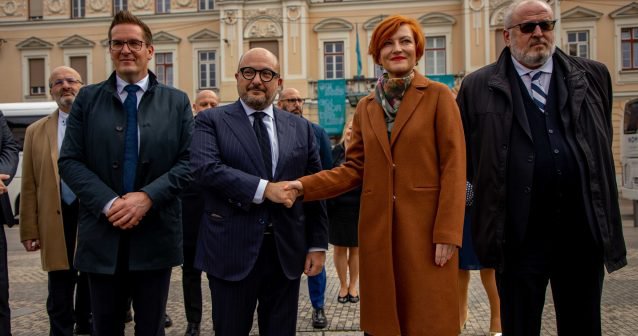 Slovenian Minister of Culture Asta Vrečko and Italian Minister of Culture Gennaro Sangiuliano will jointly promote the European Capital of Culture of Nova Gorica and Gorizia as an important national project. They want the two cities to become an important epicentre of culture in Europe, they said at their first meeting in Nova Gorica on Monday.
The two ministers first shook hands in Europe Square, followed by a meeting at the municipality of Nova Gorica. Minister Asta Vrečko, who was accompanied by Kaja Širok, State Secretary for Culture from the Prime Minister's Office, Secretary Marko Rusjan and others, said in a statement after the meeting that ECoC 2025 symbolises the elements that the European Capital of Culture contains, i.e., that it connects the local community through culture and art, and at the same time allows the area to come alive in a new light.
Sangiuliano said that the Capital of Culture is a great project in which they believe, and that its cultural and spiritual essence underlines a united Europe. He recalled that this is an area from which many important writers have come, and for whom the experience of the border has proved to be an added value. He continued that the area should be highlighted not only in the cultural sphere but also in the economic sphere – wine, gastronomy, and tourism. "There is a lot of common potential," he concluded.
The ministers also discussed the major European events where both countries will be at the forefront; the forthcoming Frankfurt Book Fair, where Slovenia will be guest of honour in October, with Italy taking over the baton next year, and the Bologna Book Fair, where Slovenia will be guest of honour next year.
The Mayor of Nova Gorica, Samo Turel, presented to the ministers some successful cross-border projects already underway as part of the preparation for the ECoC, such as the Visavi Festival, the Cinecittà and the GO! Borderless Opera Lab. He also expressed his wish to create a single "Borderless Area" in Europe Square, which would allow the organisation of cross-border events without duplication of administration and costs. The Mayor of Gorizia, Rodolfo Ziberna, added that we need to see what the legacy of the European capital will be, not only in the year after, but ten, twenty, thirty years after that, and not only in culture and tourism, but also in the field of work, economy and life in general in this border area, which is often difficult from the point of view of European norms and directives. "In this area, we can be a laboratory for rewriting the European norms," he concluded.
Related projects

GO! 2025 - European Capital of Culture 2025

Sfoglia online BidBook2 GO2025 ENG Preview WHAT IS IT ALL ABOUT? The title of European Capital of Culture is given every year to two cities of two Member States of ...

Read more