Cultura per il futuro
31.03.2023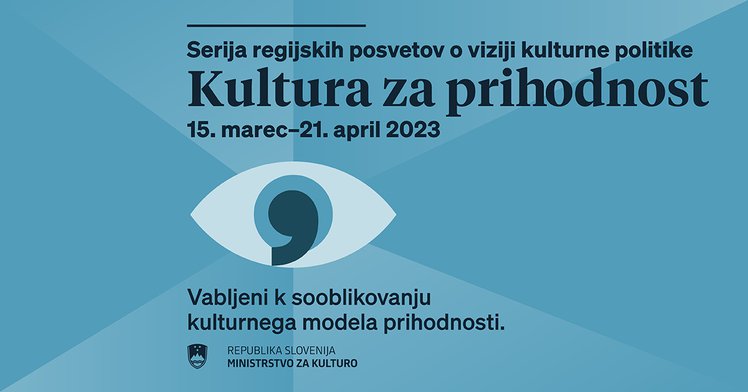 Invito alla consultazione sulla visione della politica culturale con il Ministero della Cultura Sloveno.
The Ministry of Culture of Slovenia invites you to a regional consultation to prepare the reform of the cultural model. We will listen to your challenges and proposals and present you with the key points of the new cultural policy guidelines and the upcoming changes to the National Programme for Culture.
The consultation will take place on Friday, 14 April, from 14:00 to 16:00 at the SNG Nova Gorica (Trg Edvarda Kardelja 5, 5000 Nova Gorica). The Minister of Culture, Dr. Asta Vrečko, and the State Secretary, mag. Marko Rusjan. All stakeholders in culture (self-employed and other workers in culture, public institutions, NGOs, fans, audience), representatives of municipalities (professional services and decision-makers), development agencies and other ministries, as well as the interested general public are invited to attend the consultation.
The event is part of a series of consultations in which the leadership of the Ministry of Culture of Slovenia will visit all 12 regions of Slovenia. In 2023, the Ministry will undertake significant reforms of the cultural model: it will amend the existing National Programme for Culture, write an accompanying Action Plan, amend the overarching Law on the Exercise of the Public Interest in Culture, and reform the status of the self-employed in culture. The Ministry is already working with specific working groups to develop strategies to address challenges in the areas of museum policy, media, film, Slovenian language and contemporary dance.
All of these processes will have a significant impact on cultural policy in the future, and it is important that the broadest possible public is involved. Through the Consultations, the leadership of the Ministry of Culture aims to listen and seek solutions to common challenges, and to co-create a social ecosystem in which culture and the arts can contribute to a cohesive society, a sustainable future and work for the public good.
Related projects

GO! 2025 - European Capital of Culture 2025

Sfoglia online BidBook2 GO2025 ENG Preview WHAT IS IT ALL ABOUT? The title of European Capital of Culture is given every year to two cities of two Member States of ...

Read more