EDITORS are coming
12.04.2023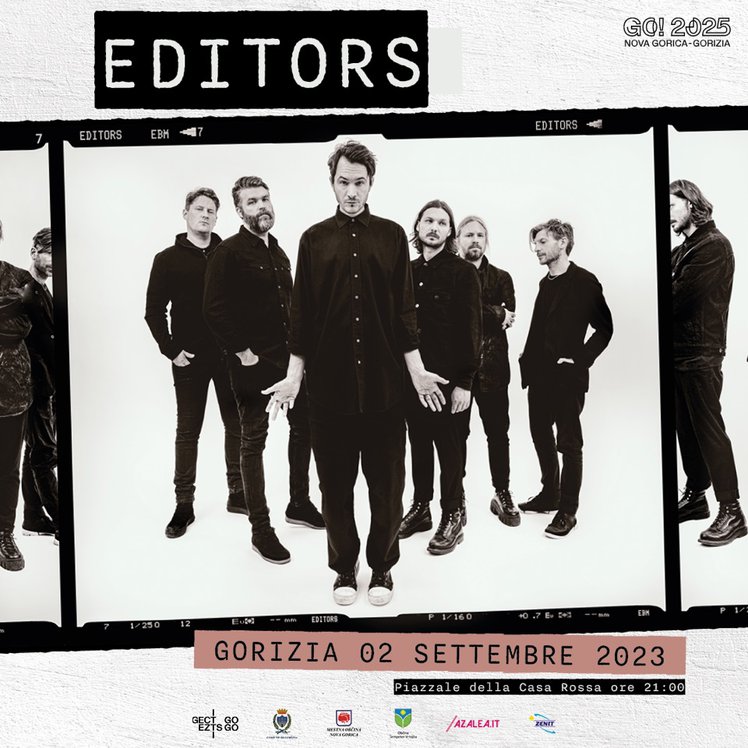 On 2 September, the British rock band Editors is coming to Gorizia and Nova Gorica. The concert of the Birmingham band, which will take place in the large car park at the former border crossing Rožna dolina, is the first promise of a quality concert offer that will take place on both sides of the border in preparation for the European Capital of Culture 2025.
 
The famous British band Editors will bring together music lovers from both cities, regions and countries and will also create the first link between Gorizia, Nova Gorica and Agrigento, which has just been chosen as the Italian Capital of Culture for the same year and will also host the band Editors.
 
The Gorizia performance was announced yesterday by the EGTC GO (European Grouping for Territorial Cooperation), which is organising the event in collaboration with the Municipality of Gorizia, as a preview of the upcoming Capital of Culture GO! 2025, and ticket sales have also started. "In this way, the venues leading up to 2025 are filling up with international initiatives, also in the field of music. The calendar of events is gradually taking shape and the GO! 2025 team (represented by the GO EGTC and the GO! 2025 institute) is preparing for this crucial year," as quoted by GO EGTC. 
 
Editors will present their repertoire, including their seventh album "EBM".  The band has a distinctive sound that fuses rock, punk and electronica and is constantly evolving and growing, while remaining rooted in a vision that has been cemented over a career spanning more than 17 years.
The event is organised by EGTC GO in cooperation with the Municipality of Gorizia and Zenit srl, as part of the initiatives leading up to GO! 2025.
Tickets on sale on the Ticketone circuit from 2 p.m. today, Wednesday 12 April. More info on www.azalea.it
Related projects

GO! 2025 - European Capital of Culture 2025

Sfoglia online BidBook2 GO2025 ENG Preview WHAT IS IT ALL ABOUT? The title of European Capital of Culture is given every year to two cities of two Member States of ...

Read more