2400 people at Casa Rossa: EDITORS in anticipation of GO! 2025
03.09.2023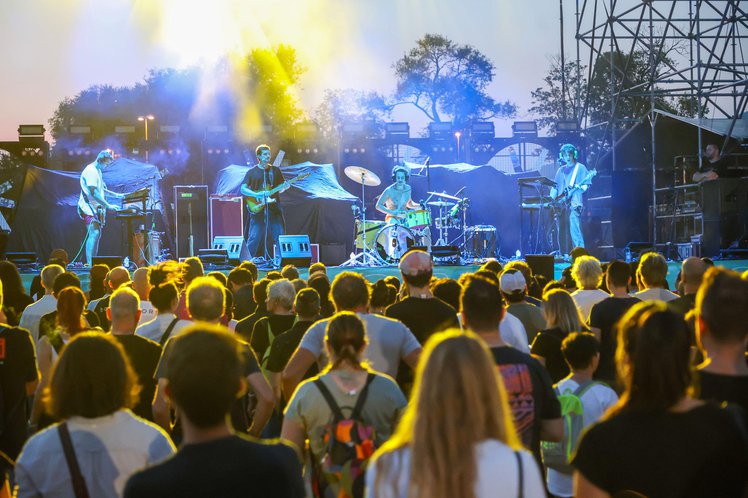 2400 persone a Casa Rossa: entusiasmo transfrontaliero per il concerto degli EDITORS, anticipazione di GO! 2025
Great satisfaction on the part of the organisers of EGTC GO and the Municipality of Gorizia for the excellent outcome of yesterday evening: a joyful square where people of different ages, backgrounds and languages mingled. The Editors' concert held in the former border crossing Piazzale della Casa Rossa in Gorizia attracted around 2,400 people: in addition to locals, many rock music fans from the rest of Slovenia and FVG, as well as Austrians and Italians from other regions.
The Slovenian band MRFY opened the evening with a powerful and passionate performance of their greatest hits that convinced even those in the audience who did not know them. Around 9.30 p.m., EDITORS took the stage and accompanied the fans on a journey through their rich discography. Starting with 'Strange Intimacy', they played 14 songs and four encores, including the hits 'Munich', 'Papillon' and 'Hallelujah (So Low)'.
In addition to the superb performances, this concert also represented an important milestone for both cities, Gorizia and Nova Gorica, testing the organisational capacities of the cross-border area and serving as a forerunner for the large-scale events in the run-up to the European Capital of Culture 2025 Nova Gorica-Gorizia.
The concert was organised by the EGTC GO in cooperation with the Municipality of Gorizia and Zenit srl, but numerous partners contributed to the success of the event, offering the audience the first major experience of this kind in the border area.
The running of the event was facilitated by the Gorizia Provincial Transport Company, which provided free bus transport, and by the municipalities of Gorizia and Nova Gorica, which ensured a sufficient number of parking spaces for visitors.
The next event on the calendar, again at Casa Rossa, will be the performance of international music icon Patti Smith on Thursday 5 October 2023.