First cross-border event on social inclusion promoted by the EGTC GO
13.05.2019
Nova Gorica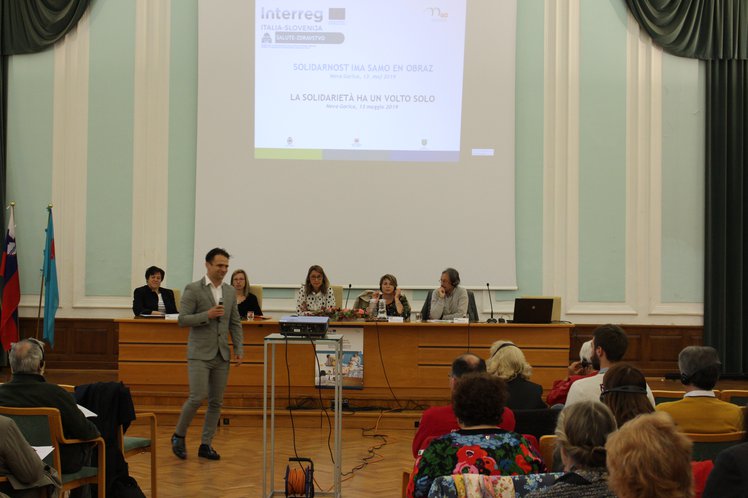 NOVA GORICA, 13 MAY 2019. It's called "Solidarity has only one face" and is the first cross-border training event on social inclusion organized by the EGTC GO in collaboration with the Municipalities of Gorizia, Nova Gorica and Šempeter-Vrtojba. This is, in concrete terms, the first meeting between Italian and Slovenian subjects operating in the territory of the three Municipalities and represents the first step to network the stakeholders operating in the territory in favor of the weaker groups.
The event is part of the "social inclusion" pilot action of the Salute-Zdravstvo project "Creation of a network of cross-border health services", funded by the Interreg V-A Italy-Slovenia 2014-2020 Program. The action, which takes place in collaboration with the three founding municipalities of the EGTC GO, aims to create a network of cross-border social services for the population of Gorizia, Nova Gorica and Šempeter-Vrtojba, in particular for the weaker segments. The result of the action will be a cross-border protocol between the three Municipalities, which will provide for the joint provision of social services, involving all entities managing social services and private associations. As part of the project, training and in-depth moments dedicated to the social services operators of the three cities will be organized. Three information points will then be created in the three municipalities, where citizens will be able to receive information on existing services throughout the area and how they can use them. By creating a cross-border social network, Italian and Slovenian citizens will be able to use the services provided by all three municipalities.
The event of 13 May saw the participation of representatives of the three municipalities of the EGTC GO, which are part of the permanent cross-border working table set up within the project. They were entrusted with the presentation of the social services of their territories, with the aim of stimulating the active participation of stakeholders in joint cross-border project activities. At the event on May 13, which also aimed to collect information sheets on the participants and their possible interest in activating cross-border collaborations, three thematic workshops will follow to identify collaboration activities, but also critical issues and possible solutions.
The cross-border table, coordinated by the EGTC GO, will deal with the construction of a network of social services that require joint assistance. The analysis of the services and social-assistance programs in the municipalities of Gorizia, Nova Gorica and Šempeter- Vrtojba, carried out in 2018 and summarized in a booklet intended for stakeholders, was of fundamental importance.