Ziberna and Miklavič protagonists of the first episode of Virtual Cafe with GO! 2025 Nova Gorica- Gorizia
01.04.2020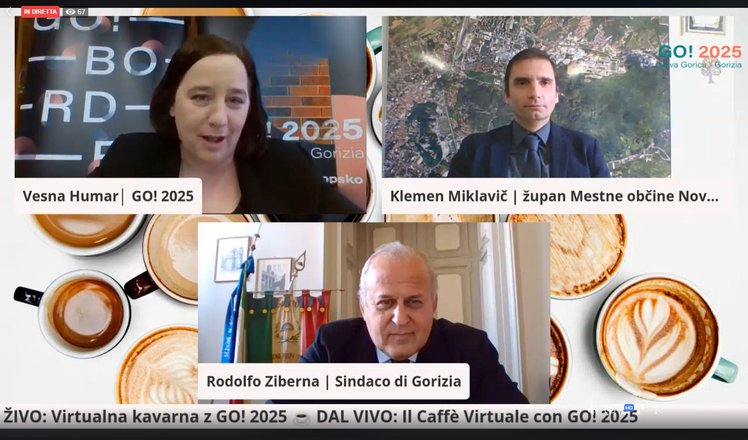 A month ago, Rodolfo Ziberna and Klemen Miklavič celebrated together, in Ljubljana, embracing each other, the transition to the second phase of the candidacy of Nova Gorica and Gorizia for the title of European Capital of Culture 2025 (ECOC 2025). Now, in the midst of the coronavirus emergency, they face each other daily, but at a distance. The GO!2025 Team brought them together today during the inauguration of the "Virtual Cafe with GO! 2025 Nova Gorica - Gorizia" as part of the initiatives for the ECOC 2025 candidacy, coordinated by the EGTC GO. The initiative, moderated by the journalist Vesna Humar, took place at 12.30 a.m. in live streaming on the Facebook page GO! 2025 Nova Gorica - Gorizia, where you can still see the double interview. Although the net and border controls have been temporarily restored, causing suffering and sadness, the two cities have found it spontaneous to continue collaborating and confronting each other to face a common emergency. "The number of people infected in Nova Gorica is low compared to the rest of Slovenia - explained Miklavič - also because Nova Gorica has been able to move faster thanks to the almost daily updates on the Italian situation of the friend and colleague Ziberna. The life of the two cities is deeply intertwined and this emergency situation has made us understand that it is necessary to identify a common management system to deal with such an emergency ".
Ziberna stressed out that thanks to the role of the EGTC GO, the european grouping of territorial cooperation established by Gorizia, Nova Gorica and the neighboring municipality of Sempeter -Vrtojba, our territory can give a strong signal to Europe. "The EGTC GO is Europe - said Ziberna -. We signify the promotion of a Europe of possibilities, a model of collaboration to be exported to other countries ". The two mayors agreed in the allocation of the EGTC GO as a key player in the acceleration of the economic recovery and the cross-border developement process, once the emergency ends. The ECOC 2025 application is the opportunity for our territories to relive on the whole developement level, not only in the cultural sector. "Our cross-border regions have a very important and impactful tool on our territory: the EGTC, which should now concentrate above all on the economic problems of our territory. It will have to know how to channel the funds allocated by the EU for economic and developement projects, in order to accelerate the economic recovery "concluded Miklavič.
In the next weeks, the Virtual Coffee with GO! 2025 Nova Gorica - Gorizia will host other double interviews. Moreover, last Monday, the free online courses to learn Italian and Slovenian kicked off, an initiative to make Italian and Slovenian citizens feel closer in this difficult period. The fist online lesson of both courses gained 1300 views: a success that exceeds all expectations.
 
Related projects

01.04.2020

Ziberna and Miklavič protagonists of the first episode of Virtual Cafe with GO! 2025 Nova Gorica- Gorizia

A month ago, Rodolfo Ziberna and Klemen Miklavič celebrated together, in Ljubljana, embracing each other, the transition to the second phase of the candidacy of Nova Gorica and Gorizia for ...

Read more