A walk on our cycle bridge
03.03.2021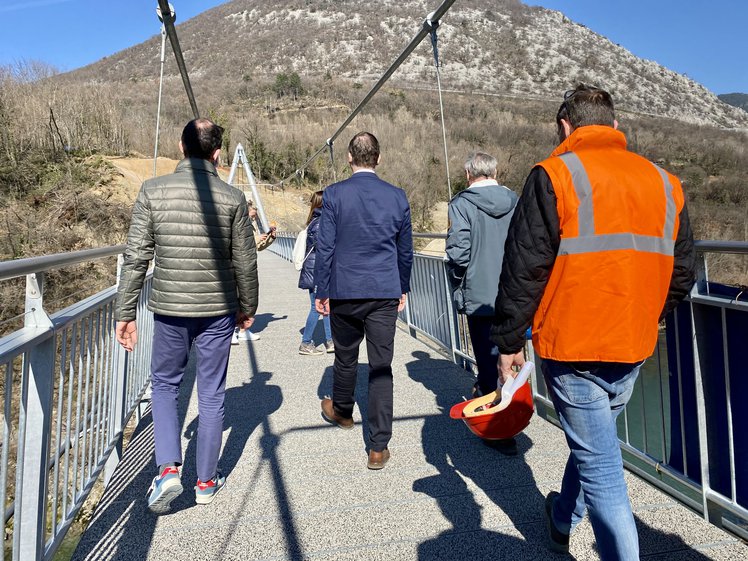 Today the mayor of the Municipality of Nova Gorica, Klemen Miklavič, accompanied by the deputy director of the EGTC GO Tomaž Konrad, head of the investment service of the municipality of Nova Gorica, Simon Mlekuž, supervisor Valter Figar and head of construction site of Kolektor CPG Radovan Velišček, visited the new cross-border cycle bridge across the Isonzo/Soča in Solkan and the future connecting path to the Solkan-Plave cycle path and the connection with Italy.
The new cycle bridge over the Isonzo/Soča river is largely completed. In the first half of March, the external arrangement and cleaning of the construction site will follow. After that, the preparation of the technical documentation of the project and the acquisition of the use permit is expected at the beginning of May. The opening of the cycle bridge will take place when the connection path to the Solkan - Plave cycle cycle paths also completed, which will be completed with a delay due to the demanding avalanche terrain.
In the images, you can have a look of today's visit to the cycle bridge and the splendid views that we will soon be able to enjoy from it.
The construction of the cycle bridge on the Isonzo/Soča is carried out by the EGTC GO and is financed by the Interreg Slovenia-Italy 2014-2020 program.