The new issue of the cross-border newspaper already in your mailboxes
20.05.2021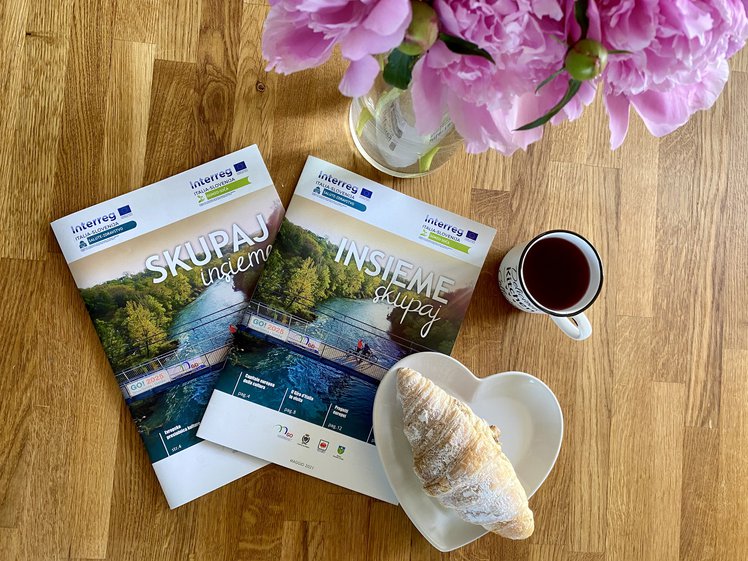 The European Grouping for Territorial Cooperation EGTC GO, together with the Municipality of Nova Gorica, the Municipality of Gorizia, and the Municipality of Šempeter-Vrtojba has published a new issue of a cross-border newspaper entitled Together – Skupaj/Insieme. With this result, we want to present to the residents of our cross-border area many joint projects that already connect our space and raise the quality of life in it. The expert hands of journalists who took care of the edition belong to Blaž Močnik, in collaboration with Francesca Santoro. These days, the newspaper, which was published in two editions, Slovenian and Italian, has been delivered at homes of the residents of Nova Gorica, Gorizia, and Šempeter also available in electronic version on the EGTC GO website. The newspaper was published in a time of real flourishing of joint projects, winning the title of European Capital of Culture 2025, participating in the Giro d'Italia cycling race, preparations for a common cross-border economic zone, and efforts to make our common urban space a model for Europe.
The 31-page newspaper Skupaj - Insieme brings many interesting and current topics from our region: preparations for the 15th stage of the Gira d'Italia, the European Capital of Culture, presentation of cycling and cross-border tourist routes in our cities, insight into an economic recovery after the epidemic and high-tech companies, cultural events, health in the region and an article on the 110th anniversary of the death of aviator Edvard Rusjan. We also asked all three mayors about current topics, Rodolfo Ziberna, dr. Klemen Miklavič and mag. Milan Turk. In short, it brings interesting stories from here and now and we believe that the citizens of all three municipalities will be happy to pick it up.
For almost a decade, the EGTC GO has been consolidating the collaboration between the cross-border area and the three municipalities through various projects with the vision of strengthening cooperation in all areas.
We are enriching the cross-border territory by implementing important projects, with the two largest projects, Isonzo-Soča and Salute-Zdravstvo, co-financed from the Interreg Italia-Slovenija program, in the conclusion phase. Together we strive to strengthen cross-border tourism, cultural activities, mobility, and economic cooperation.
You can read about all this in the new edition of the cross-border newspaper, which was created thanks to the collaboration of publishers, photographers, graphic designers, and project staff from both sides of the border and thanks to the important collaboration between the three municipalities.
You can also find the publication in electronic form. We wish you a pleasant reading.
Salute-Zdravstvo and Isonzo-Soča projects, within which the publication was realized, are funded by the Interreg Italia-Slovenija 2014-2020 Program.
Sfoglia online