The Salute-Zdravstvo project presented at the Italian round table Autism and Covid19, between phase 1 and phase 2.
05.05.2020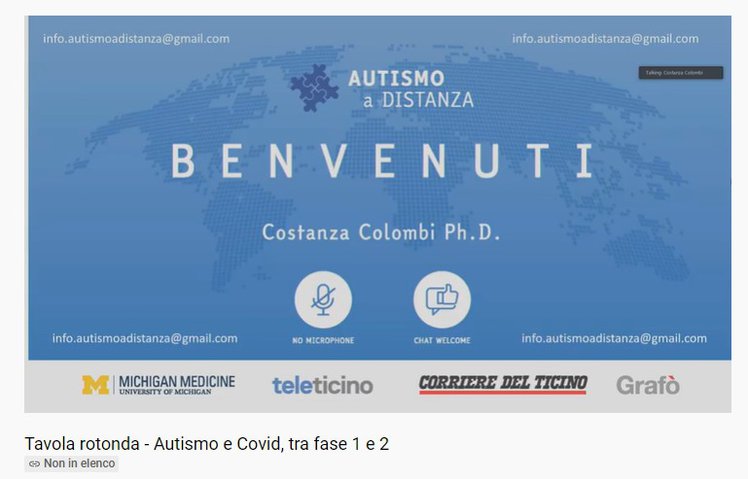 On Saturday the 2nd of May, the EGTC GO had the opportunity to participate, as a speaker, in the Italian round table Autism and Covid19, between phase 1 and phase 2. The initiative, organized by Costanza Colombi, Clinical and Developmental Psychologist and Professor of the Department of Psychiatry at the University of Michigan, took place online and gave voice to 60 national experts. The goal was to collect observations and proposals to submit to the technical table that works closely with the Italian government in this emergency period.
The EGTC GO presented the activities carried out under the Salute-Zdravstvo project, funded by the Interreg V-A Italia- Slovenija 2014-2020 program. During his speech, the director of the EGTC GO Ivan Curzolo, described, in particular, the activities carried out remotely in these weeks of epidemiological emergency. Italian and Slovenian experts are following the online courses organized by Colombi herself to learn how to provide support to parents of children with autism spectrum disorders in Gorizia, Nova Gorica and Šempeter-Vrtojba. The cross-border team of the EGTC GO also attends a bi-weekly discussion with Costanza Colombi to perfect the supporting work for parents. Colombi's indications, as well as all the material to carry out home activities collected on the online platform, are then adapted to the needs of parents and children of the area of the EGTC GO.
ESDM certification also continues for operators who participated in the training course organized as part of the Salute-Zdravstvo Project and who, after passing an exam, will therefore be enabled to treat children with this method. Experts from AAS No. 2 "Bassa Friulana Isontina" (today ASUGI) and from the Šempeter Hospital (Splošna bolnišnica "Dr.Franca Derganca") took part in the course, which was held in July 2018 and July 2019.