EGTC GO at the Conference on the first ten years of CESCI
23.04.2019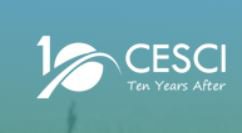 EGTC GO will also take part of the Conference on the tenth anniversary of CESCI (Central European Service for Cross-border Initiatives), which will take place on 25 and 26 April in Budapest. During the two-day meeting on integrated cross-border development, Sandra Sodini, Director of EGTC GO will talk about integrated territorial investments (ITIs). In addition to presenting the two projects: Isonzo-Soča and Salute-Zdravstvo, financed from the Interreg V-A Italy-Slovenia 2014-2020 Programme, she will talk about the process that led to the creation of EGTC GO and to an integrated strategy for the joint development of the cross-border area.
Currently, EGTC GO is the first and, for the time being, only example in Europe implementing an ITI on a cross-border level.
Click here for more details.
Read the full programme here: http://cesci10.cesci-net.eu/en/home/