EGTC GO at the Seminar for local authorities on the UE funds for the new programming period 2021-27
21.09.2022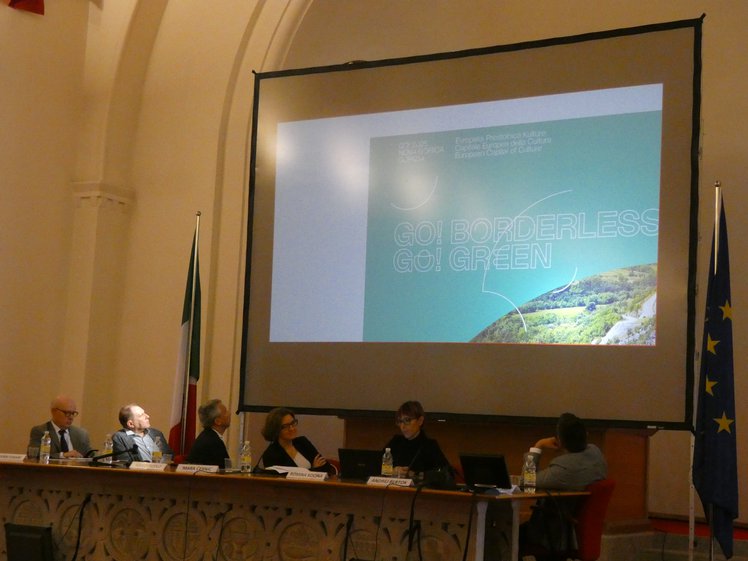 The speach of our director Romina Kocina at the Seminar for local authorities on the new programming of EU funds 2021-2027
The seminar on "COHESION POLICY 2021 - 2027 THE NEW PROGRAMMING OF EU FUNDS: an opportunity for local actors" took place on 19 September 2022 in the Aula Magna of the University of Gorizia.
The event was organized by the University of Trieste, Euroservis Srl in collaboration with ANCI-COMPA FVG, Kallipolis, Informest, GECT GO and ISIG.
Professionals from the sector have provided a critical reading of the regional policy of the European Union for a better use of the development opportunities of EU projects.
After the greetings of the authorities the speakers took the floor.
Our director Romina Kocina opened her speech, Nova Gorica-Gorizia European Capital of Culture 2025: opportunities and challenges for the territory, with the question: what awaits us in 2025?
She illustrated the motto of the whole capital: GO! Borderless and recalled the importance of the BidBook, "the Bible of the European Capital of Culture 2025". The Bidbook contains events, strategy and the financial part of the Capital.
She also recalled the importance of the Interreg program, which had already involved GECT GO for two projects, now in the closing phase: the Isonzo-Soča project and the Salute-Zdravstvo project.
The projects that the EGTC GO will finance in this new programming period will be preparatory to the European Capital of Culture in the development of the three GO!2025 panels: GO Share, GO Green, GO Europe.