Exploring the sights of both GO cities by tourist bus as part of the project GO! EXPLORE
14.12.2022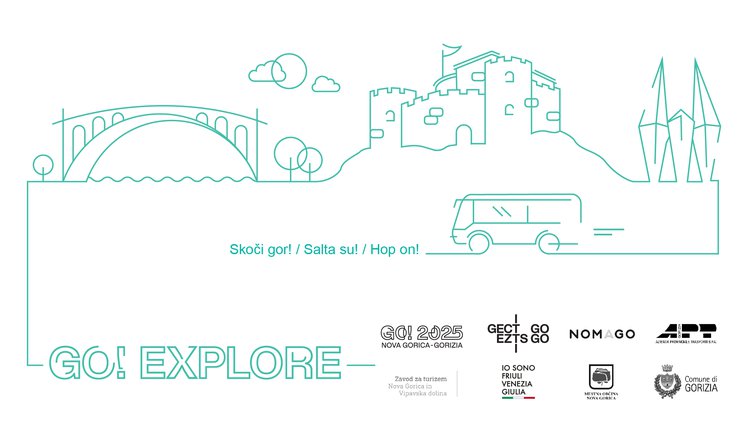 The free circular tourist bus is a novelty of the two municipalities of Gorica, the Municipality of Nova Gorica and the Municipality of Gorica, tourist associations from both sides of the border, the Public Tourism Office Nova Gorica and Vipava Valley and PromoTurismoFGV and EZTS-GO and GO! 2025. The aim is to establish new cross-border sustainable transport links and to connect the tourist and cultural attractions of the two cities, which in 2025 will hold the prestigious title of European Capital of Culture.
Exploring and getting to know the tourist attractions of both Gorice will take place with a round trip of buses on December 17 and 18, 2022, between 10 a.m. and 12:30 p.m. The start and end of the circular tourist bus tour will be at the Square of Europe, the center of the European Capital of Culture 2025.
The tourist bus is intended for everyone who would like to get to know the sights of both Gorice, deepen their knowledge or just spend a pleasant morning in good company. Participants will be accompanied by a tour guide. The guide will be in Slovenian and Italian, and the route will take you through the following tourist and cultural attractions:
The Europe square / Transalpina square
Coronini Park
Vittoria square
Municipal Palace
Castle of Gorizia
Crossing Rožna dolina
Solkan bridge
Monument to Edvard Rusjan
Bevkov square
The Franciscan monastery of Kostanjevica, from where the view extends to Laščak's villa on Rafut, which will be one of the central venues of EPK 2025
The Europe square / Transalpina square
Reservations for a free ride are accepted no later than one day before the event, until 6 p.m.:
TIC Nova Gorica (T: 05 330 46 00, M.: 041 460 217, nova-gorica@vipavskadolina.si)
Promoturismo Gorizia (T: +39 0481 535764, M: +39 335 108 4763, info.gorizia@promoturismo.fvg.it).
The transports will be carried out by the bus operators Nomago and APT, and up to 28 people will be able to take part in individual trips.
Related projects

GO! 2025 - European Capital of Culture 2025

Sfoglia online BidBook2 GO2025 ENG Preview WHAT IS IT ALL ABOUT? The title of European Capital of Culture is given every year to two cities of two Member States of ...

Read more