Seminar COHESION POLICY 2021 - 2027
19.09.2022
Aula Magna of the University of Gorizia - University of Trieste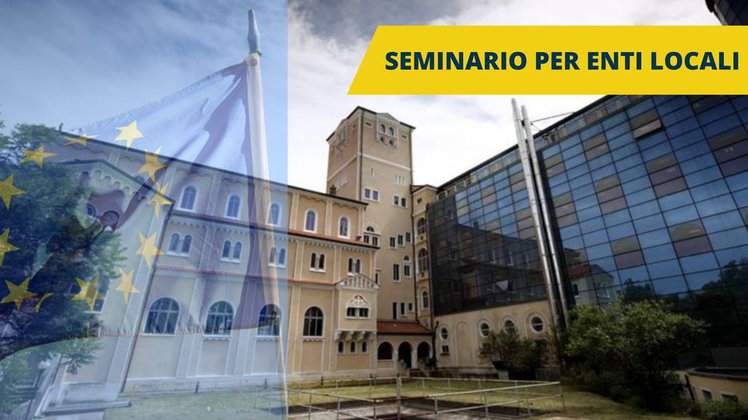 The new programming of EU funds. New opportunities for the actors of the territory. Seminar for local authorities
📍 Gorizia, Monday 19 September 2022
Aula Magna of the University of Gorizia - University of Trieste
🇪🇺 The new EU budget amounts to 2,018 billion euros, of which 806.9 billion comes from Next Generation EU, an extraordinary emergency instrument, adopted to cope with the effects of the Covid-19 pandemic. On December 17, 2020, the 2021-2027 Multiannual Financial Framework was definitively approved, also confirming the additional 16 billion euros, which will strengthen the key programs.
💻 The professionals of the sector at regional level and other experts of the participating bodies speaking at the Conference, will provide a critical reading of the European Union regional policy in order to be able to use the numerous information, including of a technical-practical nature, in the most appropriate way, on the development opportunities of EU projects.
Event program:
08.30-09.00 Registration of participants
09.00-11.00
- Greetings from the Authorities present
- The 2021-2027 Cohesion Policy and the NGEU on the European territory - By the University of Trieste
- Gorizia and Nova Gorica: European Capital of Culture 2025 - By GECT-GO
- The PNRR: what opportunities for local authorities? By INFORMEST
- Local authorities and European projects: are they a real opportunity? - By ANCI / COMPA
- Europlanning: European added value, innovation, transnational partnership, common policies - By Euroservis
11.00-11.30 (coffee break)
11.30-12.00
Governance tools: participatory processes
- in planning to promote cultural, economic, and social development - By ISIG
- in urban and peri-urban contexts - By KALLIPOLIS
Q&A session: involvement of the public present on the topics dealt with
12.00-12.30 Conclusions and closing of the works
The event is open to the public and in Italian language 🇮🇹
Participants will receive a certificate of participation.
Organizers:
University of Trieste - Department of Political and Social Sciences
EUROSERVIS S.R.L.
In collaboration with:
Institute of International Sociology of Gorizia (ISIG)
ANCI / COMPA
KALLIPOLIS
INFORMEST
GECT-GO
Sign up here