EDITORS concert
02.09.2023
Piazzale della Casa Rossa, Gorizia/Gorica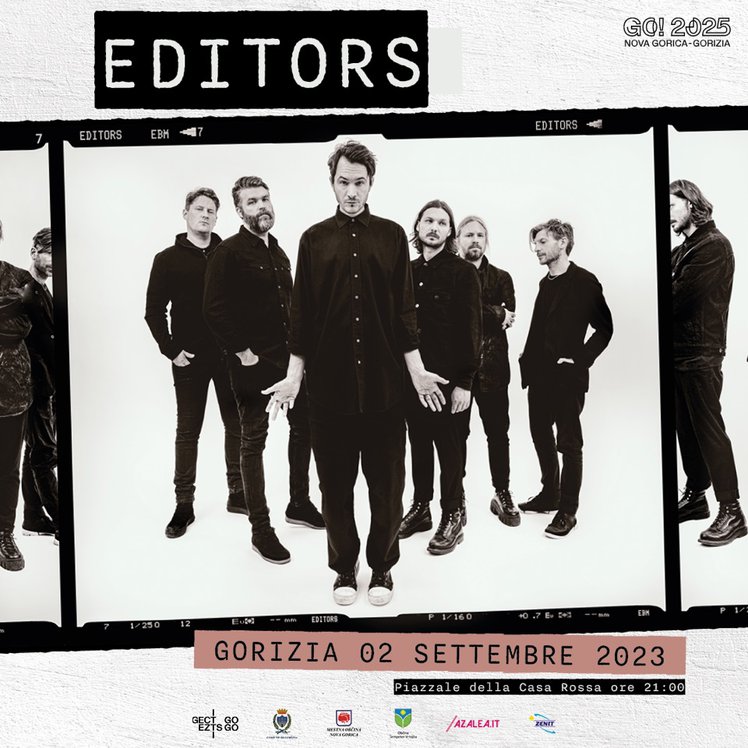 On 2 September, the British rock band Editors is coming to Gorizia and Nova Gorica. The concert in Gorizia will take place on 2 September 2023 at the large car park next to the former border crossing in Rožna Dolina (Casa Rossa parching).
 
The band began their musical journey in 2002 and were formed by friends and fellow students who met at Staffordshire University. The original line-up consists of Tom Smith (lead singer) and Russell Leetch (bass guitar), with Ed Lay (drums), Justin Lockey (guitar), Elliott Williams (keyboards) and Benjamin John Power (keyboards and electronics) joining later. To date, Editors have released seven albums that have sold millions of copies. Their best-known songs include Munich (The Back Room, 2005), Smokers Outside the Hospital Doors (An End Has a Start, 2007), Sugar (The Weight of Your Love, 2013), etc.
Their music is often compared to the sound of Joy Divison, The Cameleons, Interpol, U2, etc. But Editors like to cross the boundaries between genres – they started in post-punk, turned to alternative rock and are currently (e.g. with their latest album EMB, 2022) closer to electronica. They are not afraid to experiment, to change their style, or as Williams, the keyboardist, wryly put it: "We are a band with an identity crisis." But the common thread of their ever-expanding journey, always under the umbrella of rock, is a certain darkness; they are interested in dark themes, or in frontman Smith's words, "We certainly enjoy the dramatics and the over-the-top nature of this darkness in our music, the world that it lives in. We're having quite a lot of fun making our miserable music."

Editors will present their repertoire, including their seventh album "EBM".  The band has a distinctive sound that fuses rock, punk and electronica and is constantly evolving and growing, while remaining rooted in a vision that has been cemented over a career spanning more than 17 years.
Tickets on sale on the Ticketone circuit .
For press accreditation, please contact press@go2025.eu.
The event is organised by EGTC GO in cooperation with the Municipality of Gorizia and Zenit srl, as part of the initiatives leading up to GO! 2025.
More info on www.azalea.it