The Lunatico Festival returns to Gorizia with music, theatre and narrative
25.08.2021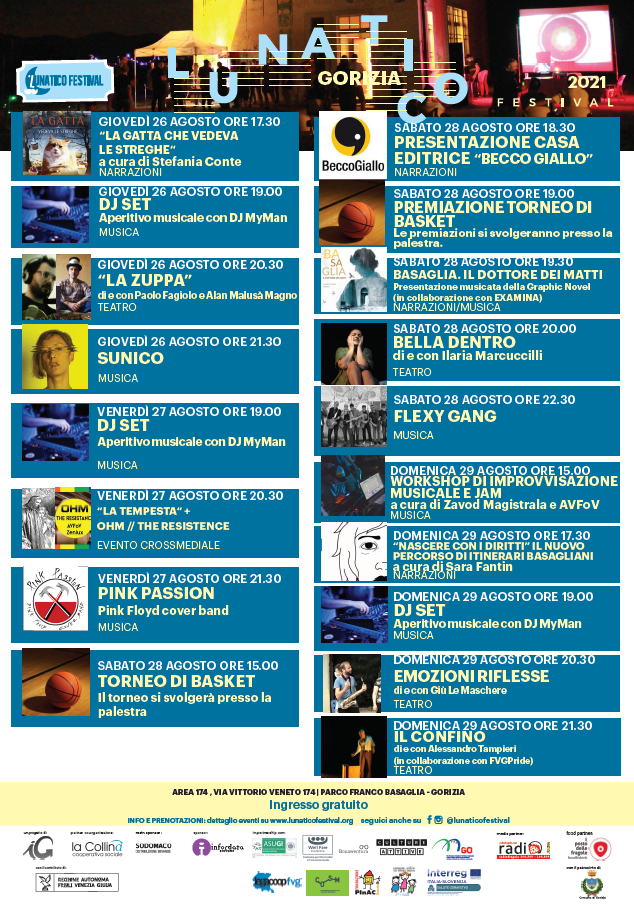 The festival will take place from 26 to 29 August in Basaglia Park with free admission by prior reservation until vacancies are filled.
For the eighth year in a row, the Lunatico Festival, a project of iG Soc. Coop., Co-organized by Cooperativa Sociale La Collina and EGTC GO, under the auspices of the Municipality of Gorizia, returns to Gorizia. This year, the Lunatico festival program has expanded even further. As usual, it will be hosted in Basaglia Park on Via Vittorio Veneto 174 in Gorizia, from 26 to 29 August 2021. The program will be divided into different sections: music, theatre, and storytelling. Some events, including sports, will be held in collaboration with local cross-border organizations.
In the fight against the stigma of mental health - a factor that has always been characteristic of the festival, also due to the venue of the festival, in Basaglia Park, a former psychiatric hospital in Gorizia, where psychiatrist Basaglia, known for the  reform named after him.
Basaglia Park, which will be the stage of the event, will also be the venue for a basketball tournament to be held in the gym, followed by an awards ceremony.
More information and a detailed schedule can be found at https://www.lunaticofestival.org/ .