Discovering the new cross-border cycle paths of EGTC GO
21.06.2023
Gorizia-Nova Gorica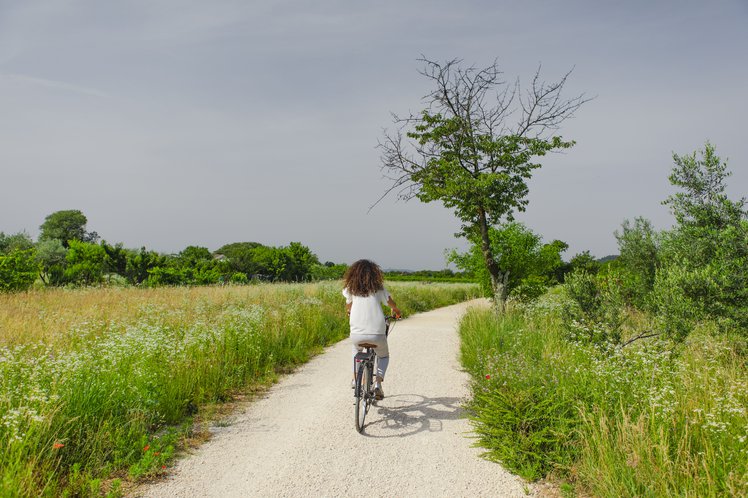 From the Transalpina/Europe sqare to the footbridge over the Soča/Isonzo river, along the paths of the Solkan fields.
The EGTC GO, together with the mayors of its three founding municipalities (Gorizia, Nova Gorica and Šempeter-Vrtojba), presented today the map of the new cross-border cycling routes by biking along a section of it accompanied by journalists and local associations.
The participants started from the Piazzale della Transalpina and continued along the border and through the fields of Salcano to the new footbridge over the Soča river built by the EGTC GO within the project ITI  Isonzo-Soča funded by the Interreg V-A Italy-Slovenia Programme 2014-2020.
During the stop at the viewpoint above the footbridge, the mayors expressed great satisfaction with the results achieved in the framework of cross-border cooperation: the cycle paths as well as the footbridge are an example of how it is possible to break down the physical borders between two states, guaranteeing citizens and tourists a better quality of life, in a green and obstacle-free way.
The management of the EGTC GO also emphasised how the European project Isonzo-Soča has succeeded in changing the face of the area. On the border that once divided cities, new, more pleasant memories can now be created through walks with friends, or family, or cycling with colleagues.

The route of the cross-border bike ride ended by cycling through the picturesque fields of Salcano back to the starting point in the Transalpina/Europe Square.

The new cross-border cycle routes, together with the existing routes of the three towns, create a true cross-border cycle network, which is shown on the map available on the EGTC GO website for those who wish to explore the beauty of this part of the Gorizia area as well.