Matera 2019- GO! 2025 FOR BUSINESS: NEW DEVELOPMENT PATHS THROUGH CULTURE
05.04.2022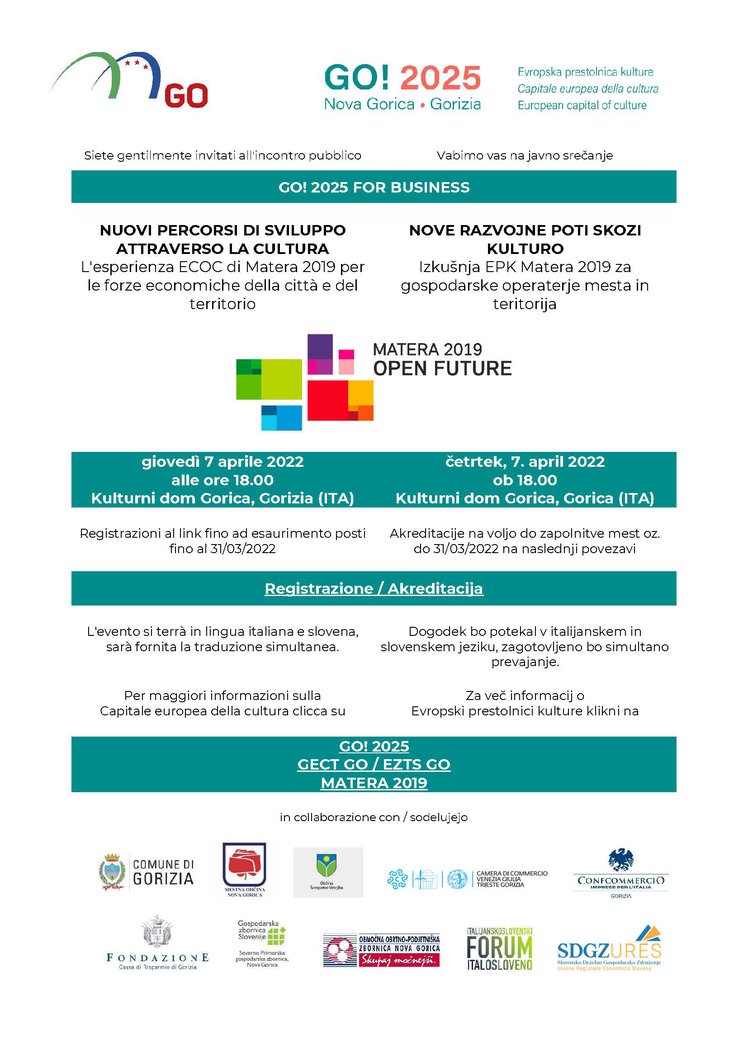 On Thursday the 7th of April at 6.00 pm you are kindly invited to the Public meeting GO!2025 FOR BUSINESS: NEW DEVELOPMENT PATHS THROUGH CULTURE - The Matera 2019 ECoC experience for the economic forces of the city and the territory. The event will be held at the Kulturni dom Gorica, via Brass 20, Gorizia (ITA).
The EGTC is, together with the Public Body Javni zavod GO! 2025, the organizer of the European Capital of Culture Nova Gorica - Gorizia 2025. The Italian predecessor is an example of very successful best practices with administrative and organizational aspects very close to us. The success of such an international event also depends on the perfect link with the territory and it is truly essential that the local economic fabric breathes in the European spirit that 2025 proposes. The first of a series of thematic meetings will therefore be dedicated to the economic aspects and repercussions that the capital can bring.
The director and his closest collaborators of Matera 2019 ECOC will show us their experiences, the paths they have taken with local economic realities and organizations, the benefits and criticalities, we will therefore learn from their experiences and they will be available to respond to your questions.
The meeting is reserved for business sector operators. Due to limited places, it is necessary to register for the event until the 31st of March 2022 at the following LINK.
The event will be held in Italian and Slovenian, simultaneous translation will be provided.
For further information please contact sara.boskin@euro-go.eu and anka@go2025.eu