Memorandum of collaboration between GECT GO and AECT Rio Minho signed
26.05.2022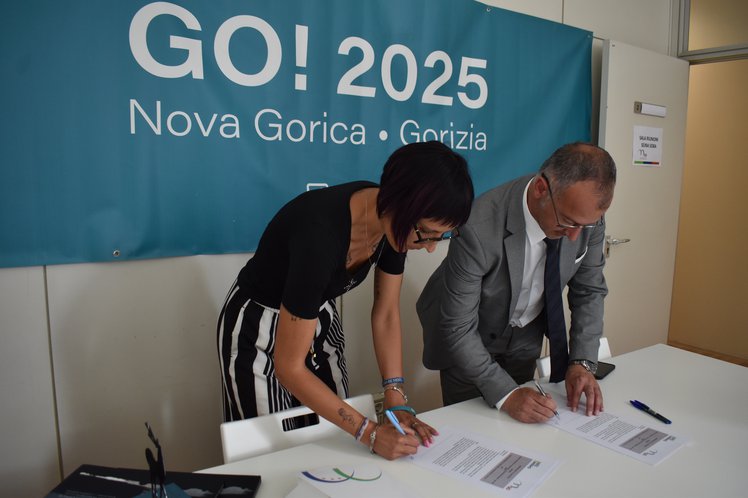 Such an important day for the two European territorial cooperation groups. The director of the EGTC GO, Romina Kocina, and the director of the AECT Rio Minho, Rui Teixeira, signed a memorandum of collaboration to promote a partnership between our two institutions.
Wednesday was not the first meeting with the colleagues from the Spanish-Portuguese EGTC: in 2019, we had already brought our experience to the newly formed cross-border cooperation group. Then, in 2021, during our visit as part of the "BRIDGE - Building Relationships Into a Democratic Goal for Europe" project, at their headquarters, we had the opportunity to renew the exchange of good practices.
The visit of the delegation to our offices was a new opportunity for dialogue and to put on paper our commitment to cooperate to achieve common goals. With this document we have therefore decided to lay the cornerstone for a stable collaboration, providing a structure for benchmarking operations aimed at the development of both territories.
The topics on which we wish to collaborate with the AECT Rio Minho range from the construction of cross-border governance systems to the promotion of a competitive territory on a socio-economic and tourist level. We pledge to consider people and their needs the core of our strategy.
The encounter continued with a technical meeting in which the EGTC GO explained its governance models, cross-border interventions, and procurement processes. We analysed in detail the managing models of ITI projects in tourism and health in terms of goals, activities, results, and modus operandi, such as the cross-border cycle path and bridge.