Festival R.O.R. - the full moon in the heart of the city
02.10.2023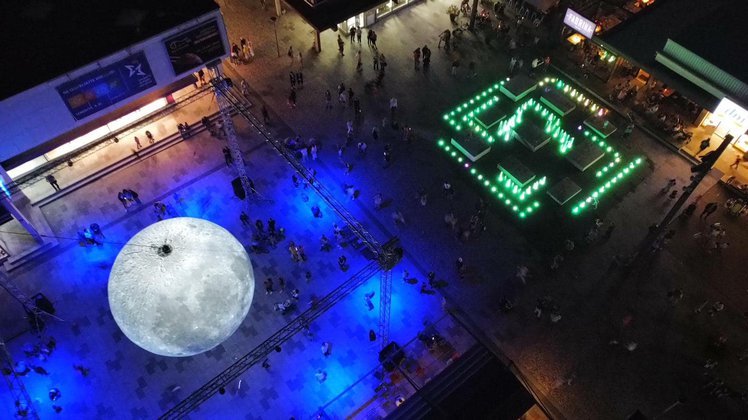 This weekend saw the first major event co-financed as part of the official programme of the European Capital of Culture 2025 Nova Gorica – Gorizia. The R.o.R. Festival, an international festival of contemporary, intermedia and performance art practices, moved this year to the centre of Nova Gorica and to the premises of the GO! Center in Gorizia, connecting the two cities through interdisciplinary and new media art.
The brightest part of the festival was the so-called Light Path in Nova Gorica, which consisted of 9 Slovenian and international artists or art groups who dedicated themselves to light installations – the most prominent was the huge full moon by artist Luke Jerram, installed in Bevkov trg. The mock-up of the moon, seven metres in diameter, was made using Nasa's ultra-high-resolution imagery, and in addition to the excellent photographs and great attendance, the moon also proved to be a fitting venue for a dance performance; the festival ended with To the Moon and Back by the MN Dance Company . The attendance was incredible, the city came alive – a very popular item was that of Claudia Reh (Echtzeitlich), who projected images created with the help of the participants onto the Edvard Rusjan monument, creating beautiful, almost psychedelic scenes on it.
Various performances and installations also took place in the premises of the Xcenter in Nova Gorica, the GO! Center in Gorizia and on the streets of Nova Gorica. There were also laser projections, concerts, telescopes, lectures, etc. Artists working at the intersection of science, art and technology, scientists from various fields.
Photo: R.o.R festival archive