Barraonda takes 5th place at the Barcolana: wind in the sails for GO! 2025
09.10.2023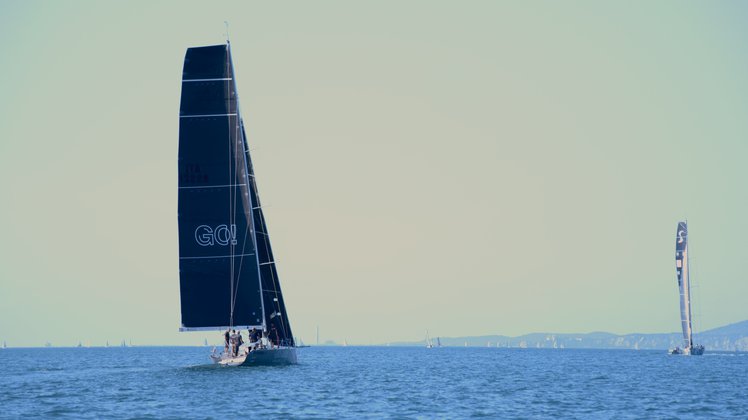 Victory with the sailing boat GO!2025 
At the 55th Barcolana, which took place yesterday in the Gulf of Trieste, Barraonda, a sailing boat of the two cities Nova Gorica and Gorizia, and the European Capital of Culture 2025 Nova Gorica - Gorizia, competed. The wind in the sails of GO! and a well-coordinated team led Barraonda to 1st place in its category and an excellent 5th place in the overall ranking among over 1,700 boats. 
Despite unfavourable sailing conditions and light winds, Barraonda, flying the flag of the European Capital of Culture, achieved an excellent result, its absolute best ever. For the eighth consecutive year, the Gorizian boat is the leader in its category, while in the overall category, it ranked 5th among more than 1700 sailing boats. "In the third quarter of the competition Barraonda was even in third place, just behind the winner Arca, but then the wind picked up a bit and the bigger boats came out on top," commented Lucio Provvidenti, Team Leader of Barraonda, a 40-foot (11.99 metre) racing boat, designed by German Frers Jr., designer and multiple champion of the American's Cup, made of carbon fibre and with a sloping keel.  
"Our slogan Born to Win brings together lovers of the sea and sailing who have combined their passions to compete in races with Barraonda. The boat's story tells the history of an open world, of teamwork based on solidarity, perseverance, discipline and a spirit of community and teamwork, where it doesn't matter who speaks what language," said Lucio Provvidenti, Barraonda's crew chief, about the boat's mission. 
Barraonda, the racing boat by excellence, began its cross-border history in 2005, when mayors Matej Arčon and Ettore Romoli encouraged to take the flags of the two cities of Nova Gorica and Gorizia out to sea and set sail for a new cooperation. Even today, in the run-up to the European Capital of Culture, we see it as a symbol of cross-border cooperation, of teamwork, of building a new community between the inhabitants of the two cities. 
Marko Peljhan in preparation phase 
Two days before the Barcolana, Barraonda hosted on board during its preparatory ride artist Marko Peljhan, who, in the context of the European Capital of Culture, is developing the art and science project ISOLABS, which will focus on the Soča river basin.  Marko Peljhan, originally from Nova Gorica, is a researcher, conceptual artist and professor of new media at the University of California. He has participated twice in the Venice Biennale, won the UNESCO Prize for Digital Media, and has been awarded the Golden Nice Prize and the Prešeren Prize.